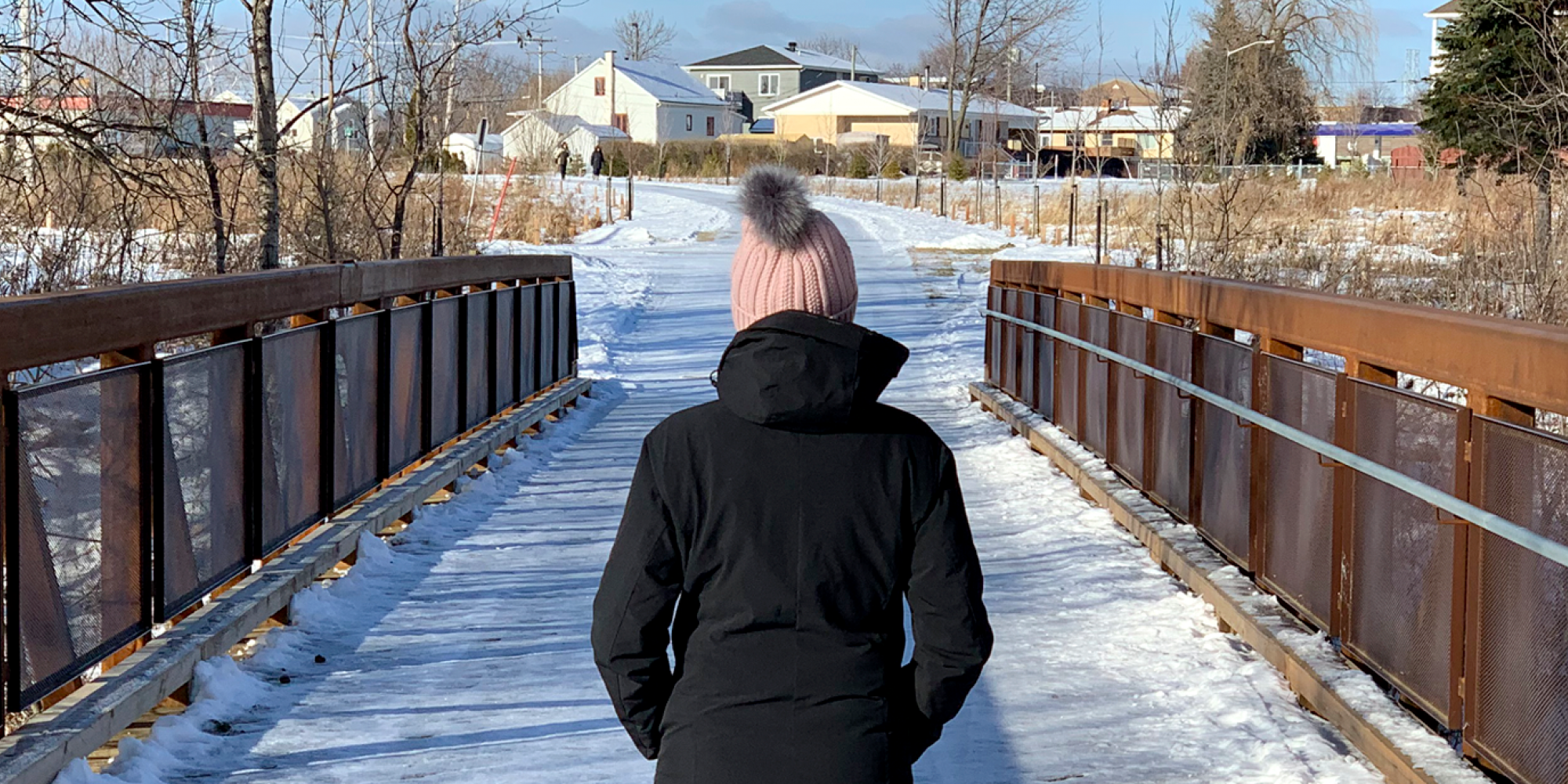 Winter Lovers Portrait - Lyne
Monday, February 24, 2020 - 08:00
"Is there anything more beautiful than the sun's rays hitting the snow, making it sparkle? I don't think so!"
Lyne speaks about snow how others speak of their love—with contagious enthusiasm and in poetic terms that are both charming and fascinating.  
Perhaps growing up in Gaspésie, with immense snow banks as the backdrop to her childhood, laid the foundation for her love of winter. But at the age of 60, the depth of her passion for the season remains.
A devoted admirer of the cold season, she keeps an eye on the weather not to decide whether to slip on her boots or slippers, but rather to make sure she is wearing the right clothing and accessories before heading outside. On stormy evenings in the neighbourhood streets of Lebourgneuf in Québec City, look for a well-bundled-up woman wearing ski goggles briskly trekking through the snow, a smile on her face.
"In winter, the temperature is always perfect; all you need to be comfortable is the right clothing."
At this point, she adds that the feeling she gets when stepping inside is worth all her outings at -40: "Feeling the cold air on my face, then the warmth of home when I get back, it's simply the best feeling." One very familiar to children returning home after playing outside, cheeks red and hair tangled underneath their hats—but a feeling that we sometimes forget as we get older.
Not Lyne, though, who firmly believes that skating, skiing and especially sledding has no age limit. While speaking joyfully about her favourite season, she lifts her finger, as if to draw attention. What follows reveals one of her guilty pleasures:  
"When a snowstorm is raging outside, it's the perfect excuse to spend all day lounging around in pyjamas doing nothing.  Everything is closed, the whole world slows down. It's such a joy."
For Lyne, even shovelling her entryway is cause for a good mood, not to mention efficient: it's both a workout and a dose of fresh air.
When we encourage her to share memories of her childhood winters, two immediately come to mind: the discovery of an old car hood transformed into a sled for a dozen neighbourhood children, and the immense calm she felt lying in the snow until it enveloped her in a blanket of comforting silence.
Lyne, like other winter lovers, is relentlessly optimistic when faced with the inevitability of the icy season, viewing it as an invitation to stop and reflect—the pine trees heavy with a thick layer of sparkling snow, and how lucky we are to live here.  
Lyne's simple winter pleasures:
An essential winter experience:
Skating on the Rideau Canal in Ottawa.
A tip to better enjoy Canadian winters:
All the winter activities! By taking up skating, taking walks in the forest, and going sledding with the kids, we develop our endurance to the cold in addition to rediscovering the joy of playing.
Your favourite winter postcard:
The Saint Lawrence River when the snow is melting on a sunny day.
♡Hot Paws