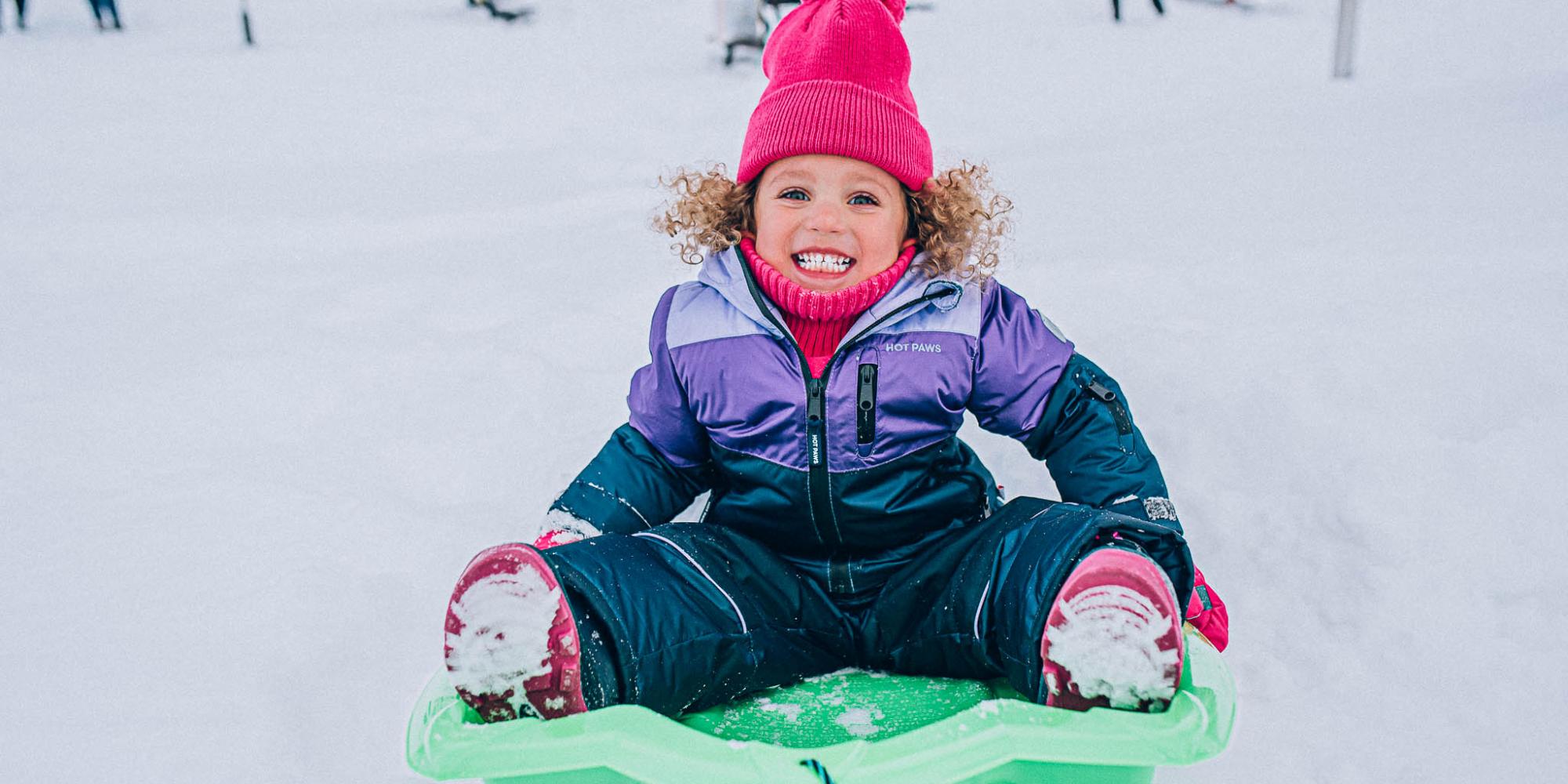 30 things to do when it snows
Go sledding  
Sledding is the go-to winter activity, fun for the whole family! Make the most of the snow-covered hills and enjoy the descent! Remember to bundle up your littles ones with our kid's winter jacket and snow pants set!
Ride a snowmobile  
Scenic route here you come! It's great way to discover new beautiful terrains with a boost of adrenaline. A snowmobile ride is sure to give you thrills! 
Go skiing / snowboarding
There's nothing like the sound of your skis or your snowboard gliding on freshly fallen snow. Stick around afterwards, a warm hot chocolate is a must just like your best snow pants!
Learn how to skate
The first lesson in skating? Have fun with it! There's always a rink nearby just waiting for you!
Go play hockey
Want to channel your true Canadian spirit? Grab your hockey stick and play a game with friends. Keep your hands warm during every slapshot with our ski mittens!
Roast marshmallows on an open fire
We're still debating over what's more fun – marshmallow roasting or marshmallow tasting? Whatever the answer, you're in for a treat! Yummy!
Pamper yourself at an exterior spa
Self-care is as important as ever when winter deprives us of sunlight. Head over to an exterior spa to relax and reset.
Build a snowman
Grab a carrot, a Hot Paws cute toque, and some long twigs, and you're ready to build your new winter pal!
Build an igloo
We've all watched or read how igloos are made. Are you up for this cool challenge with the family?
Have a snowball fight
1 - 2 - 3, fight! It's not really winter until you've had a snowball fight, right? Duck, dodge and toss!
Make snow angels
Is there anything cuter than making snow angels in fresh snow? Let yourself be carried away by the magic of winter, little angels! 
Go for a dog sled ride
A unique and amazing experience awaits! A dog sled ride is a once-in-a-lifetime experience, as you become one with nature. Let the dogs guide you through the forest!
Visit a winter farm
Visiting a winter farm is sure to be an experience with many funny moments. Plus, you'll probably get the chance to feed the cute animals. A win-win! 
Enjoy a walk in a frosty forest
Are you ready for an enchanted moment? A walk in a frosty forest is sure to create beautiful memories you'll never forget.
Paint the snow with food coloring
A fun activity for kids, painting the snow with food coloring is the easiest way to decorate your yard. Go outside and create your masterpiece! For that outdoor day, don't forget hand warmers and a neck warmer to stay comfortable.
Make your own ice rink in your backyard
Tell me you're Canadian without telling me you're Canadian. Having your own ice rink in your backyard is a real testament to your patriotic love for winter.
Capture winter beauty through photography
Some of the most beautiful and poetic landscapes can be seen during winter. The perfect opportunity to use your camera and work on your photography skills!
Dig your own snow tunnels
Those who don't like snow have never dug their own snow tunnels and it shows. Flee the winter-blues through to your own private escape tunnel!
Write your name in the snow
A blank canvas deserves only the best! Write your name and make history - at least until the sun comes back. Oh, and we recommend you wear a pair of waterproof gloves for this one!
Blow bubbles with dish soap and see if they freeze
There's nothing like a little experiment to understand the power of nature. Blowing bubbles with dish soap in cold weather is sure to bring its share of amazement.
Make some maple taffy
A fun activity involving a delicious treat? Count us in! Not only is making maple taffy a unique experience, it's also one of the most delicious bites you'll ever have!
Go snowshoeing
Are you ready for a workout session surrounded by the wonders of nature? A day of snowshoeing is a great way to get a breath of fresh air.
Go see the view at a lookout near you
There's something unique about our surroundings during winter. Everything seems calm and restful. Take in the view at a lookout near you for an inspiring day. You will probably walk to get there, so wear your thermal socks!
Play outdoor hide and seek
Playing outdoors in the snow adds a layer of fun that cannot be described. A game of hide and seek will certainly bring you lots of laughs! Ready or not, here I come!
Go on a scavenger hunt in nature
A scavenger hunt in nature is a great way to explore and find out what our surroundings have to offer. Open your eyes wide and find your winter treasure!
Fly a kite in the snow
We didn't think flying a kite could be more fun until we tried it in the snow - it literally feels like you're in the clouds with your kite! Fly high!
Make a snow castle
Do you dream of a great day at the beach? Until the hot days return, swap sand for snow and build the most beautiful snow castle!
Soccer bowling in the snow
Who says soccer isn't a winter sport? Take your kicking skills to the snow and show Ronaldo who's boss!
Play musical chairs in the snow
The simplest games for the family are often the funniest. Playing musical chairs in the snow allows you to take it to the next level and jump for victory (or in a snowbank)!
I spy…
The classic kids' game. Play a game of "I spy" by looking around for something unique in your backyard. Keep your chosen object in your mind, don't say it out loud! Let the others walk around and guess what you're thinking of. Be nice and give them hints.
Whether you go for an indoor or outdoor activity this winter, Hot Paws has all the winter accessories you need to stay warm and comfortable.
Saturday, January 1, 2022 - 09:39